Inland Northwest Anesthesia and Pain
At Inland Northwest Anesthesia and Pain in Post Falls, Idaho, we are dedicated to providing safe and effective treatment for chronic pain relief. Our procedures have reintroduced our patients to the active life they've been missing. Our mission is to provide ethical, caring and effective pain management of acute and chronic pain. Our multidisciplinary approach includes physical therapy, nutrition services, behavioral medicine, and minimally invasive procedures, for improved quality of life. Working together with patient as a team, leads to the best outcomes. So we strive to make sure the patient understands all aspects of their pain treatment.

WE LISTEN TO YOUR NEEDS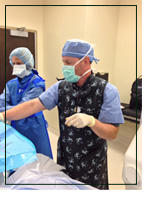 We take pride in making sure that we spend the time needed to understand each patient's needs. We make every effort to make sure our patient's understand their aliment and the treatment we are recommending. We are the leaders in customized medication and interventional pain management in Post Falls, treating pain clinic patients in Coeur d'Alene and surrounding areas.



Chronic & Interventional Pain
Management
ASC Based Anesthesia
Office Based Anesthesia
Ambulatory Surgery Centers